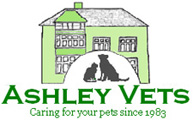 "Lovely friendly vets and nurses that always make a fuss of my dog even when he just comes in to be weighed." "Have been using them for 18 years now and always been very satisfied." Audrey, Esher

Testimonials
We value our customer's thoughts and we always like to hear back from you regarding the services you have received here at Ashley Vets. If you would like to provide feedback please visit our survey page here or contact us via our Facebook page. Below is some of the great feedback we have received!
Audrey, Esher (Apr 2013)

"Lovely friendly vets and nurses that always make a fuss of my dog even when he just comes in to be weighed."
"Have been using them for 18 years now and always been very satisfied."
Lindsey, East Horsley (Apr 2013)

"I don't live very near the surgery but would not change vets as the kindness, consideration and care shown by all the staff to all our dogs over the last 15 years has ben first class Keep going strong."
Teresa, West Molesey (Apr 2013)

"I've been with Ashley for many years, great service, great staff and always very accommodating."
Phil (Apr 2013)

"Excellent customer service and advice from your team."
© Copyright Ashley Vets 2015 All Rights Reserved
Ashley Vets, 6 Hersham Road, Walton on Thames, KT12 1JZ